Actuators for Central Locking Systems
Locking and unlocking made easy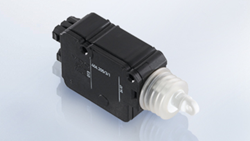 Our control elements provide reliability at the touch of a button. Most vehicles are equipped with this useful function (e.g. for locking and unlocking doors, windows, etc.).

Actuators for central locking
These actuators are controlled by the central locking system and/or the remote control. Each actuator's motor operates a lifter that activates and deactivates the lock. Additionally, the lifter may be retained by a latch mechanism and used specifically for anti-theft protection.

Use the Online Catalogue service to get more details about this product which can be installed in your vehicle (passenger car).