Sensors for Engine Management
Sensing and forwarding information
Sensors can help cut fuel consumption and harmful emissions. They play a part in boosting engine efficiency and vehicle safety to ensure greater driving comfort and enjoyment.

To fulfill the task of capturing and transmitting data, sensors need to be resistant to temperature, moisture, dirt and chemicals. They also need to function perfectly within electromagnetic fields and in the presence of other sensors, in addition to offering a long service life.
Mass Airflow Sensors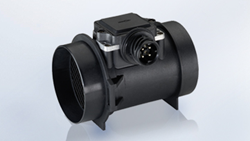 A growing focus on reducing CO2 emissions means that mass airflow sensors are becoming increasingly important in ensuring the optimum air fuel ratio.
Mass airflow sensors are positioned directly after the air filter in the intake manifold and supply information on temperature, humidity and intake air volume. Despite their highly compact construction they feature precision technology to capture information, which – together with other engine data – enables optimum engine management.
This data includes:
Intake air temperature
Intake air humidity
Intake air volume
In gasoline engines, mass airflow measurement is used in conjunction with other sensor readings to regulate the supply of fuel to the engine.
In diesel engines, mass airflow sensors are used to regulate the exhaust gas recirculation rate and calculate the maximum injection quantity.
Our mass airflow sensors are exceptionally reliable and highly capable of withstanding environmental factors. Their dynamic measurement ability makes an important contribution to reducing vehicle emissions.



Wheel Speed Sensors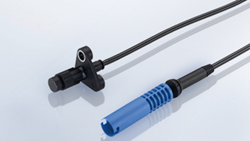 The wheel speed signal is crucial for electronic systems like ABS or ASC.
Camshaft Sensors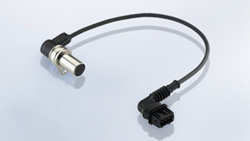 The camshaft sensor is located in the cylinder head and reads the camshaft sprocket to determine the position of the camshaft.
This information is required for functions such as initiating injection on sequential injection engines, the trigger signal for the magnet valve on pump valve injection systems and for cylinder-specific knock control.
Crankshaft Sensors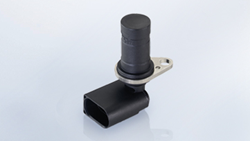 The crankshaft sensor supplies information on the crankshaft's current position, which the engine management system can then use to calculate rpm. These values make it possible to determine the most economical fuel injection and ignition timing for a vehicle.
Knock Sensors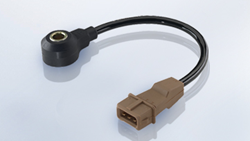 Modern engines which allow high compression ratios have a distinct disadvantage: their design leads to increased knocking, which can damage the engine.
Knock sensors reliably measure the vibration of the engine block that is characteristic of engine knocking. This allows the firing angle and other parameters to be set such that the engine continues to function correctly close to the knock threshold. This not only protects the engine but also reduces fuel consumption.
To ensure maximum precision, our knock sensors deploy groundbreaking bandwidth technology.
Pressure Sensors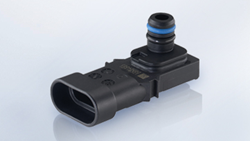 MAP and T-MAP sensors measure the air pressure in the intake manifold behind the throttle valve to determine air intake. This information is extremely important for calculating the amount of fuel to be injected to ensure the correct air fuel mix. For this reason, the dynamic measurement capability of these engine management components is crucial in reducing vehicle emissions.
MAP pressure sensor for turbocharged engines for measuring air pressure behind the turbocharger (measurement range 500–3000 hPa)
T-MAP pressure sensor with integrated temperature sensor
Oxygen Sensors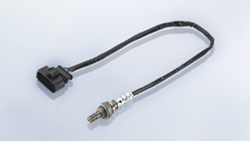 It pays to invest in quality
The existing portfolio of sensors for engine management is optimally complemented by the inclusion of oxygen sensors, with which the best possible engine power is attained at the lowest possible fuelconsumption.
The measurements from a lambda sensor are required to ensure that the catalytic converter converts almost all pollutant exhaust that results when a fuel is combusted. Lambda sensors determine the amount of residual oxygen in the exhaust and transmit this value to the engine control, which in turn precisely sets the composition of the mixture using the transmitted values.
Oxygen sensors are subjected to significant stress,
High temperatures
Vibrations
Changing gases
which means that a certain level of wear and aging cannot be avoided.
Problems which can occur with oxygen sensors:
Defective sensor heater
Cables and connectors melting due to contact with the exhaust system
Sensor kinking
Soot deposits due to "rich" mixture or high oil consumption
Mechanical defects on cable or cable seals
The only way to ensure almost complete conversion of the fuel/air mixture into environmentally compatible exhaust gases is through perfect adjustment of the fuel/air mixture. Our oxygen sensors ensure optimal engine power while complying with the stipulated emissions values.
Eccentric Shaft Sensors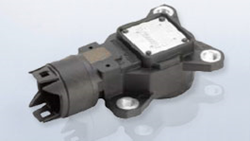 The VDO Sensors exactly control the adjusted angle of the eccentric shaft and report this value to the enginemanagement.
Use the Online Catalogue service to get more details about this product which can be installed in your vehicle (passenger car).
See also our Variable Lift Control Motors
Exhaust Temperature Sensors
Engine Management for the Environment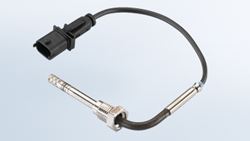 In times of environmental protection, exhaust gas purification and fuel consumption reduction, the exhaust temperature sensor supplements our range of products.

Application
These sensors are installed in exhaust after-treatment systems
Features:
In the field of engine management, the sensor takes on numerous tasks.
Checking of efficiency and protection for components
Temperature monitoring of turbochargers, catalytic converters, diesel particle filters and nitrogen oxide reduction systems
Monitoring of optimum operating point
Protection from temperature overload
Reduction of harmful emissions
Reduction of fuel consumption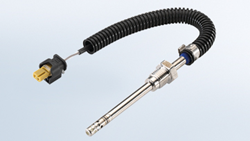 Quality that pays off
All sensors match the OE sensors, and hence also conform to the respective specifications and requirements of the vehicle manufacturer.

Program
1:1 Spare part (plug and play)
Coverage of important European vehicle manufacturers
Vehicle coverage:
A3, TT, A4, A5, A6, A8, Q5, Q7;

A Class, C Class, E Class, GLK Class, CLS, Sprinter;

Astra H, Astra J, Insignia, Corsa D, Signum, Vectra C, Zafira B, Mokka, Meriva B;

9-3, 9-5;

Altea, Leon, Toledo, Exeo, Ibiza;

Octavia, Superb, Yeti, Fabia, Roomster;

Beetle, Eos, Golf V, Golf VI, Jetta III, Jetta IV, Scirocco, Phaeton, Touareg, Passat, Polo, Caddy III, Touran, Tiguan