Single Instruments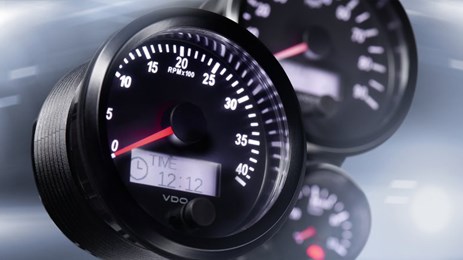 Overview
World Wide Gauges is a standardized instrument platform for special vehicles and stationary machinery. With modular solutions in three housing variants and in two different illuminations (front - or back light) solution. Based on this instrument platform very cost effective customized solutions are available (dial design).
SingleViu
The SingleViu family is the new round-shaped instrument platform from VDO. Each gauge displays one parameter, ensuring an excellent overview and ease of use. The instruments are versatile, flexible and suitable for a wide range of applications on the market. SingleViu offers a persuasive combination of clear and classic optical design and RGB background illumination. Its robust design allows use in all fields of application and in all kinds of vehicles.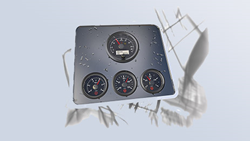 Thanks to the latest technology, the SingleViu gauges are also well prepared for the future. Equipped with a dual input mode, the gauges are ready for "plug and play" use with all customary sensors and integrated into the vehicle's CAN bus. The many configuration options and customization possibilities offer flexible and custom-fit solutions for every intended use.
A wide range of variants are available for initial equipping, for retrofitting or for replacing existing instruments. They provide all the functions of the predecessor WWG, ViewLine and CANcockpit instruments.
The SingleViu gauges are available in a variety of types:
Diameter 52 mm
Temperature, tank level, pressure, engine rpm, DEF / AdBlue, voltage and current indicators
Diameter 80/85 mm
Speed and engine rpm indicators
Diameter 100 mm
Speed and engine rpm indicators
Beside the pointer, the gauges with 80/85 and 100 mm diameter contain a display to show additional information and up to 5 customizable tell-tales.
Contact us to find out more.
Features and benefits at a glance:
CAN and analog input

RGB background illumination

Flexible to combine and easy to mount

Sturdy design thanks to mineral glass, high protection class of IP67 and flame-resistant housing

Double glazing system to prevent fogging

Configurability using PC tool and push-button

Design individually adaptable to customer requirements
World Wide Gauges Cockpit International
 Panel installation
LC-display for speedo/tacho gauges
Front light technology
Benefits and Features
Analogue platform product
52, 80 and 100mm gauges available
Different fixation concepts (nut, studs and bracket)
Mineral glass lens
Metal bezel
Technical Data
Operating voltage 12 or 24 V DC
Operating temperature -30°C to +85°C
IP 64 protection class (front)
Front light
World Wide Gauges Cockpit Vision
Panel installation
LC-display for speedo/tacho gauges
Full backlight technology
Benefits and Features
Analogue platform product
52, 80 and 100mm gauges available
Different fixation concepts (nut, studs and bracket)
Mineral glass lens
Metal bezel
Technical Data
Operating voltage 12 or 24 V DC
Operating temperature -30°C to +85°C
IP 64 protection class (front)
Back light